IMPRESS
WITH THE
PERFECT CV
Make it easy to read


Use a clean layout and simple fonts

Make it personal


Explain why you are the best candidate for the role

Use an appropriate email address


The CV is your shop window; be professional

Include a clear headshot


Use a professional, passport-style photo. Smile!
Keep it short


Two A4 pages are plenty

List all your work history


Start with your latest role

Highlight skills and experience


Tailor your CV to the job – but be truthful!

Check and check again


Grammar, spelling, and punctuation matter
CV template
Our experts have put together the ideal CV template for candidates applying for jobs through our portal.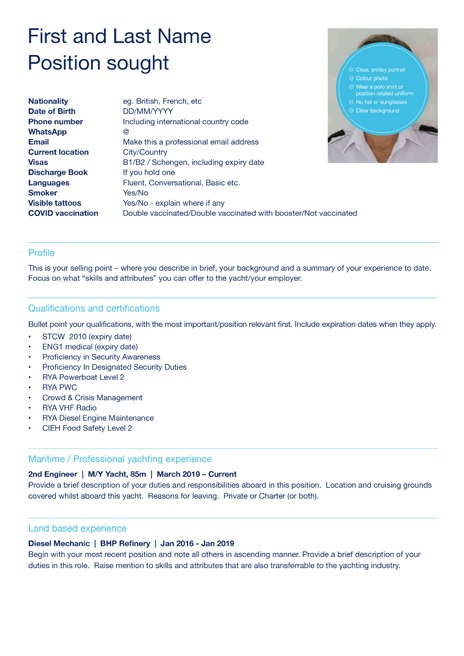 Registering with us
Before we can help you find your ideal role, you need to register with us.
Gather your completed CV and documents before signing up.
Once registered:
Upload your CV and any relevant qualifications certificates
Activate job alerts
Apply for positions which best suit your skills set or background
If you are a good match, we'll arrange a time and date to chat about available roles.
Once you have created your profile, keeping your file updated is essential. If your details change and you have new or updated qualifications, refresh your CV and upload the necessary information.
Don't forget we're looking for stand-out CVs that closely match the requirements of the available jobs. Spend time looking at the roles on offer and carefully consider the details you provide. Creating a fantastic profile now can pay off in the long run. The more relevant information we have, the better your chances.
NEXT STEPS
GET STARTED ON YOUR YACHTING JOURNEY